Cuban javelin thrower Osleidys Menendez likely back in competition soon
Submitted by: admin

05 / 28 / 2007
---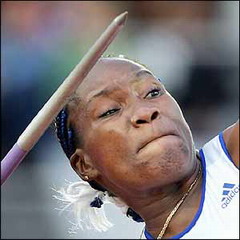 "Im not in the group of those who give up quickly. Ill bounce back from this problem with my left heel with more even spirit, and Ill show that Osleidys Menendez is going to be around for a while. When people open their eyes, theyll realize Im back."
The world record holder in the female javelin throw began to train this past January after having suffered an injury the previous summer; now that ghost is crossing her path again, precisely when she should now be competing in the Cuba-Barrientos Cup games.
Commenting on her lacklustre return to competition in Caracas, during the ALBA II Games, she pointed out that, "One has good and bad moments. You dont always get good scores. I only limited myself to breaking the inertia; and not only did I do that, but I participated in those games with tremendous pride for what they represent."
She added that she does not have an exact date in mind for when she will begin the season. "First I need to recover well enough, although I would like to start up by the last week of June or so and to make it to the Pan-American Games with three or four other competitions under my belt," she said.
"Everything depends on how things go, because my efforts have always been a function of throwing the javelin farther and farther," she insisted.
Although the summer season is still young, some notable throws over 68 meters have already taken place; but that doesnt intimidate Osleidys. On the contrary, she says that she enjoys being under the pressure " it makes her force herself.
As for the current level of the sport in America, only one javelin thrower in the United States has tossed beyond 64 meters, according to records.
Dionisio Quintana, who has always worked as the current Olympic and world champions trainer, listened attentively to our interview with his pupil and limited himself to offering only a few details for the readers of JR.
"I know Osleidys very well. She has the will of iron and is disciplined, especially when additional sacrifices are needed. For that reason we will continue working together with the resolve to not let down the Cuban people " and much less Fidel."
Source: By Francisco Mastrascusa, Juventud Rebelde
---
Related News
---