Cuba to honor Frida Kahlo and Diego Rivera
Submitted by: admin

04 / 30 / 2007
---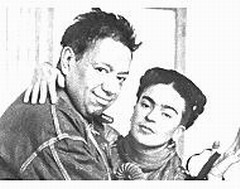 Cuban artists will honor two great Mexican painters, Frida Kahlo and Diego Rivera, a tribute that will be sponsored by several cultural institutions.
The program, scheduled from July 6 to November 24 in Havana, will be dedicated to Frida's 100th birthday and the 50th anniversary of Rivera's death, it was reported here on Tuesday.
Mexican Cultural Attache in Havana Eduardo Menache told a news conference that organizers expect to convey the two painters' cultural and social wealth and their legacy to the world.
"Frida and Diego, rather than being Mexican, are Cuban, universal, and this tribute will contribute to keeping on building the two countries' identity," Menache said.
The program to pay tribute to the two Mexican artists, "paradigms of Latin American plastic art in the 20th century," will also consist of two contests, a children's creative workshop, theoretical events, the inauguration of a collective mural and exhibitions.
On this occasion, a delegation headed by researcher Teresa del Conde and two of the four "Fridos" (Kahlo's pupils) will travel to Cuba.
The program will begin on July 6 (on Kahlo's birthday), when an exhibition of paintings by Cuban artists Zaida del Río, Alicia Leal, Agustín Bejarano and Eduardo Roca (Choco) will be inaugurated.
In addition, six second-year students of the San Alejandro Fine Arts Academy will paint a collective mural, and the exhibition "Long Live Life: Frida", consisting of artworks by 40 Mexican artists, will be inaugurated.
The Pablo de la Torriente Brau Center will call the contest "A Song for Frida and Diego", in which all Cuban singer songwriters can participate with songs on the struggle for social justice.
There will be a poster contest in which Cuban designers and artists will take part, and 1,000 copies of the winning work will be reproduced.
Other activities include the exhibition of films and documentaries on Mexican muralist movement.
Source: CubaSi

---
Related News
---