Cuba surgery gives hearing free
Submitted by: admin

05 / 12 / 2007
---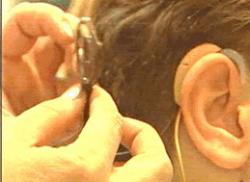 Since 1998 Cuba has been implanting cochleas in the ears of 84 patients, 20 of which were deaf and blind children, which is the highest number of surgical interventions of this kind in the world, due to its very high cost.
Doctor Antonio Paz Cordoves, head of the Otolaryngology Services of the Hermanos Ameijeiras Hospital and surgeon of the multidisciplinary group, told AIN that all patients were improving satisfactorily.
The Cuban scientist announced that 70 more will be recipients of the highly complex surgery and added that they expect to include difficult cases, mostly in children with cochlea malformations.
Paz Cordoves, also the vice president of the Cuban Society of Otolaryngology explained that priority treatment will be for children with multiple handicaps.
She added that in capitalist countries this surgery and treatment in the first month costs between 40 thousand and 60 thousand dollars, while in Cuba it is completely free of charge.
Currently there are prenatal surveys to detect deafness and work now moved to the maternity and pediatric hospitals to detect children in an early stage of this defect.
The physician added that cochlear implants have been performed for two years with excellent results and patients acquire a practically normal ability to speak.
Source: Sierra Maestra
---
Related News
---