Cubas rural community centers a success story
Submitted by: admin

04 / 01 / 2007
---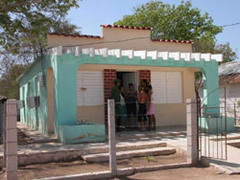 "They are centers of information, recreation and health and the population has welcomed them with respect, admiration and happiness," said Elsa Aguero, a Communist Party Central Committee staff member at the opening of a workshop on the centers.
The installation of physical therapy rooms at the community centers, even in the most remote locations, has been very popular, reported ACN, the Cuban News Agency.
Elsa Aguero expressed the need to spread the best experiences of running the community centers. She said peoples suggestions should be taken into account; worker training programs should be accelerated and maintenance plans consolidated.
Jesus Infante, president of the Granma Provincial Assembly, said the province has 464 rural community centers, the largest number in the country, and noted that their existence improves the quality of life of more than 85,000 people.
The workshop, which closes Saturday, is accompanied by a sizeable exposition of arts and crafts work, physical therapy equipment and other contributions from users of the centers.
Nationwide, a total of 1,930 rural community centers are now operating, benefiting nearly a half million people.
On March 29, 2002, President Fidel Castro inaugurated the program in the rural community of El Puntito in the Granma municipality of Campechuela.
Source: Granma

---
Related News
---