China and Cuba coincide in attention for older adults
Submitted by: admin

05 / 29 / 2007
---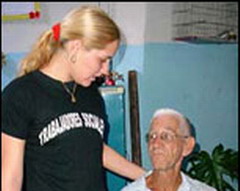 The concurrence of actions taken to provide attention for older adults was evidenced during a meeting between Carlos Lage, vice president of the Cuban Council of State, and Li Xueju, Chinese minister of civil affairs.

The Chinese official learned about programs for older adults, including the intervention of social workers and projects to confront the aging of the Cuban population.

He praised Cubas unemployment rate - lower than 2% - which is lower than the 3% established by the International Labor Organization as the standard for full employment.

Li Xueju noted that in his country as well, projects are underway to provide attention to older adults, while also speaking in favor of a bilateral increase in terms of jobs for the benefit of both nations.

On Monday, the Chinese minister also visited the Civil Defense National General Staff, where he received a detailed explanation on the part of Major General Ramón Pardo Guerra, who heads that entity, about how our country is prepared to deal with natural disasters or any exceptional situation.

The Civil Defense " Pardo Guerra explained to the visitor " was created in July 1962 to counteract the mercenary aggression and sabotage encouraged and sponsored by the U.S. government against our country. Later, it was expanded to deal with preparations for natural disasters and post-disaster recuperation.

Li Xueju said he was impressed by the Civil Defense System, which protects the population and social and economic infrastructure.
Source: Granma Internacional
---
Related News
---