Chilean theatre to Havana
Submitted by: admin

06 / 16 / 2007
---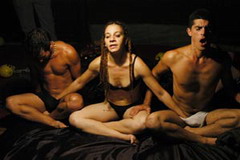 The Chilean company Teatro La Mancha returned to Cuba to present Cara de hereje -one of its most acclaimed performances- and to give a workshop on its aesthetic releases.
It first can be seen at Sala Llauradó, from where itll move on to the rest of the country. Cara .......is a tragicomedy premiered in 2000. It criticizes dehumanization of the current worlds society.

Director Rodrigo Malbrán based his humour on Manuel Silva Acevedos poetry to introduce his dialogue with the viewers.
I attended the companys first release in Havana. All was going just fine when there was a sudden power outage. It, however, did not prevent us from watching the end of the first part, because actors decided to go out into the courtyard and perform in the open taking advantage of the sunlight. The story was about two unemployed looking for job. The second and last part portrays three thief women that work in a school, where they managed to impose a fascist discipline.
At the end of the play, the effort of performing off stage was rewarded with a long standing applause.
La Mancha follows The Gesture and Image teaching principles based on mimicry, comedy and clown techniques. Cuban actress Laura de la Uz commented on it: "Studying in this school is like enjoying a great adventure voyage, where one discovers how to become a true actor, a comedian, someone capable of thinking and therefore of creating situations. It was a wonderful discovery".
Teatro La Manchas impressive release gained a lot of fans between performers and the audience, what makes room for them at the upcoming edition of Mayo Teatral.
Source: CubaSi
---
Related News
---