Brazilian president drops plans to visit Nicaragua, Cuba
Submitted by: admin

12 / 31 / 2006
---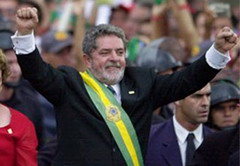 Brazilian President Luiz Inacio Lula da Silva said on Saturday that he decided to drop plans to visit Nicaragua and Cuba.
Lula said he would skip the inauguration of Nicaraguan President-elect Daniel Ortega in Nicaragua, and that he would also give up the planned visit to Cuban leader Fidel Castro.
Lula had said he would travel to Cubato visit Castro after his trip to Nicaragua, where he would take part in Ortega's swearing-in ceremony on Jan. 10.
"I will not attend the presidential ceremony in Nicaragua because I convinced myself that I have to take 10 days off," he told journalists, adding that he would be on vacation on Jan. 5-15, possibly on the seaside of the southeastern state of Sao Paulo.
He will take office as re-elected president on Jan. 1. Lula struck an optimistic note his second term.
Things have turned for the better in terms of political, economic and social development, he said, adding that people's standard of living was being improved.
He also vowed to respond quickly to the criminal attacks in Rio de Janeiro, promising the federal government will help by providing information gathered by the federal police intelligence service, as well as by sending the National Security Forces as reinforcements.
Source: Xinhua
---
Related News
---