Adigio Benítez in Villa Manuela
Submitted by: admin

02 / 22 / 2007
---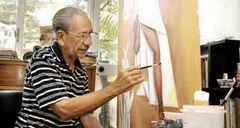 Works of Adigio Benítez, National Prize for Plastic Arts 2002 exhibited at Villa Manuela gallery of the Cuban National Association of Writers and Artists until next March 23rd under the title Essay about Hope.

The exhibit is integrated by 17 paintings that expose the limits of reality and imagination, works filled of vibrant colors as well as of an interest of the artist for rendering poetry onto everything he creates.

Adigio Benítez who has uninterruptedly work for more than 50 years is considered within Cuban plastic arts a symbol of constant renovation, of restless search, of "patient maker and of risky life".

"Coming from a peculiar tradition within the visual arts of the Cuban XX century, Adigio Benítez's work in the genre of the political illustration finds a close parallel with the attempts in this drawing modality - which is not always humorous -, of Marcelo Pogolotti, and Carlos Enríquez and especially with Eduardo Abela, and Julio Girona who practiced it with outstanding regularity in newspapers and which later became paradigmatic painters", has said of this important creator the critic and also painter Pedro de Oráa.

According to Oráa, Adigios journey through painting is the unrelenting attempt for the change of the meaning; its the search of the fresh space in the landscape and of the alternations of his own personality. The permanent trace, accumulated among the last cycles of his painting, transmits that opposition held against marked habits and fashions of capturing the images completed in the civilist demand.

Adigio Benítez has carried out more than twenty personal exhibitions and he has participated in more than a hundred national and international collective exhibitions.
Source: CubaSi
---
Related News
---