A look at cuban centenarians
Submitted by: admin

05 / 26 / 2007
---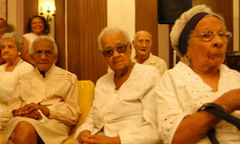 Generally speaking, one-hundred-year olds in Havana are mostly women, white, with an elementary level of education, widows or single, children of long-lived parents, live with relatives, and retain good cognitive functioning and a perfect state of mind.
The above mentioned are some of the findings of a nationwide research study carried out between 2005 and 2007 on centenarians. These results were drawn from a study of 207 people in the capital who were 100 years old or older. The findings were presented during the third International Meeting of Centenarians, held Thursday as part of the fifth International Congress of Satisfactory Longevity, organized under the theme «A Comprehensive Vision.»
At the conference, it was noted that the provinces with the highest numbers of centenarians are Havana, Havana City, Matanzas and Villa Clara. It was also said that these provinces have the highest rates of aging populations in the country.
This study was aimed at characterizing Cuban centenarians from a functional and cognitive point of view, to identify variables and indicators allowing the establishment of an operational definition of the concept of «satisfactory longevity» in Cuba. This will also establish a starting point for the planning of strategies to improve the quality of life of that population group.
The study carried out in the capital showed that centenarians have a satisfactory self-perception of health, they do not feel affected by transmissible chronic diseases, and those who suffer from them dont confine themselves because of these. Those elderly individuals do not self-medicate, and they generally take drugs only under the doctors advice. They follow the doctors orders carefully and do everything to protect their health and improve their quality of life.
Most of these centenarians have never smoked nor drank; they maintain a well-balanced nutrition and have generally good mobility, although some of them required walking devices.
Despite the prevalence of elementary levels of education, medical literature says that the people who reach their 100th birthday with more lucid than those with higher levels of education.
Havana City, Cubas capital, has 14 super-centenarians " people who are 105 years old or older. By birthplace, most of them were born in Cuba. The centenarians in Havana City from foreign countries are mainly from Spain, while those in the Eastern provinces are principally from Haiti.
Dr. Alberto Ernesto Fernandez, director of Old Age and Social Assistance in the Ministry of Public Health, said that he will personally visit all of the Cuban centenarians for this study which will look at their psychological and physical motor skill capacities, among others.
He said that there are still three provinces to visit, Guantanamo, Santiago de Cuba, Las Tunas and the special municipality of Isla de la Juventud.
The study on Cuban centenarians is a multidisciplinary study and is being carried out jointly by the Ministry of Public Health (MINSAP), the National Institute of Genetics, the National Institute of Nutrition and the Institute of Aging, Longevity and Health, among others.
During the third International Meeting of Centenarians, it was said that the objective of this study in Cuba is to learn about all the variables related to people who have achieved such exceptional rates of survival.
The research will facilitate the tools and work methods necessary to achieve a better understanding of the aging process and the extension of life. But above all, it will help develop a plan for comprehensive attention to Cuban centenarians.
---
Related News
---