A Japanese exhibition at the Cuban Fine Arts Museum
Submitted by: admin

05 / 18 / 2007
---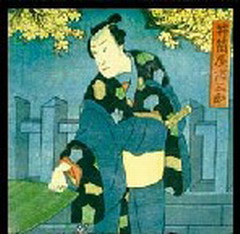 Some twenty-six Japanese engravings, well-known as Ukiyo-e, belonging to the Edo Period (1600-1868), will be exhibited at the Cuban Fine Arts Museum from May 18th to August 27th, as announced during a press conference.

With this arts sample entitled "Ukiyo-e. Images of the floating world", the remarkable Cuban institution greets the International Day of the Museums, May 18th. This day the Cuban population will have free access to the arts center.

This sample that has been collected by the Cuban Fine Arts Museum, is divided into three segments: the theater kabuki, History and Literature, the beautiful women, the landscapes and the journey chronicles.

By the middle of the 17th Century, in the Japanese city of Edo, a group of artists began to incorporate images of the painting well-known as ukiyo-e to the wood engravings. These works, having a new format, began to be sold by pieces, or albums that included specific topics.

The ukiyo-e engravings evoke the life of ordinary people residing in the cities, as opposed to another pictorial trend focused on religious.

These images reached its peak during the 18th and 19th Centuries, having a great influence upon the arts developed in the Western Hemisphere.

During this exhibition, the Japanese Embassy in Cuba, together with the Cuban Fine Arts Museum have programmed a film sample from this Asian country, that will take place from May 22nd-27th.

This sample is integrated by six Japanese films covering the 1953-2004 period, that have been awarded at different International Movie Festivals.

Among the films that will be exhibited are: "Cuentos de la luna palida", by Kenji Mizoguchi (awarded at the Movie Festival of Venice, in 1953, and at the Movie Festival of Edinburgh, in 1955), and "Tumba de luciérnagas", by Isao Takahata. The latter has been considered a classic within the field of animation.

Also will be exhibited "Tora San al rescate" (Part 48 of the longest saga within the History of the Movies), by Yoji Yamada -the most fruitful and popular among the Japanese film makers at present-, and "Samurai del atardecer", nominated to the Oscars Awards in 2004, for the best foreign film.
Source: Cubarte
---
Related News
---