Chinese technology in eastern Cuba
Submitted by: Juana

05 / 15 / 2017
---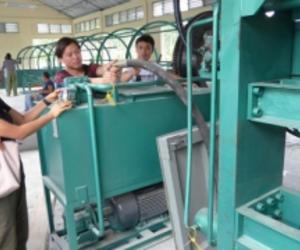 ---
Chinese specialists work in the installation of the equipment and start-up of an industry of fibers and organic substrate of coconut in the Cuban city of Baracoa, Guantanamo.
According to Granma newspaper, the plant is part of the coconut producing chain, a program devoted to the comprehensive development of the exploitation of this fruit, which maintains all its vitality despite the severe damage caused to the plantations by Hurricane Matthew.
Jorge Luis Ballester, acting director of the Baracoa business unit, told ACN that the plant should start producing soon, for which it has an initial batch of raw material (coconut carapace). In a second moment, he said, they will make use of carpentry to process coconut wood and will also produce ceiling tiles through plaster and fibers of the demanded fruit.
Ballester added that the production of the factory will be partly devoted to export. In many countries both lines have wide use.
In China, coconut fiber is used in the manufacture of mattresses and as thermal insulation panels in buildings; while the organic substrate is used to promote the development of agricultural crops.
According to Chinese specialists participating in the set-up of the machines, that industry can process between 150 and 250 kilograms of raw material per hour.
---
Related News
---