Doctors that left Cuba can return to their former jobs
Submitted by: Juana

02 / 04 / 2017
---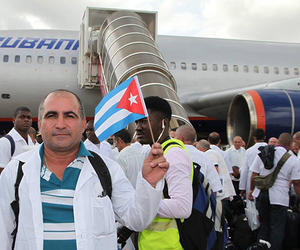 ---
The Ministry of Public Health of Cuba issued a release stating the decision to reinstate to their positions those doctors that left their collaboration missions in other countries and wish to return to Cuba.
The release, published in Granma newspaper, reads that the Cuban Medical Professional Parole Program created under the George W Bush administration and repealed last January 12th by the then US President Barack Obama was aimed at hurting Cuba and had a negative impact in other countries, especially those of the so-called Third World.
The MINSAP announced that, like it has happened since the implementation of the new migratory regulations in Cuba in 2014, those health professionals that return to the country will be allowed to resume their work in the national Health System.
The medical collaboration Cuba gives to other countries has as principles its voluntary nature and the comprehensive attention to the needs of the collaborators both in Cuba and abroad, who received a salary in the places they are working as well as health care, food, places to stay and air and land transportation while in Cuba they keep their positions and full salaries as well as all the social security benefits for him/her and their families.
There are in this moment over 50 thousand health Cuban professionals working in 60 countries.
The services they pay come in three modalities: one in which Cuba assumes all the expenses, a second where it shares them with the government of the country that receives the aid and a third one where the receptor country pays for the services.
The latter one, though it represents an economic contribution to the sustainability and development of the Cuban health system, doesn't attempt against its solidarity character since the Cuban doctors work in in regions where even their native counterparts refuse to go; besides, those monies are also used to pay for the aid given to countries with severe economic limitations, contribute to the training of tens of thousands health professionals in the Latin-American Medical School and provide funds for the multiple missions undertaken by the Henry Reeve Contingent , like the one to fight the Ebola outbreak in West Africa.
The release concludes by reiterating that health professionals are the main strength of the Cuban public health system and the mainstay of the dreams of justice for Cuba and other nations.


---
Related News
---