Washington and Havana to advance national security cooperation
Submitted by: Juana

01 / 17 / 2017
---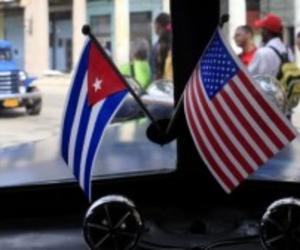 ---

The governments of Cuba and the United States signed Monday in Havana a memo of understanding to advance cooperation in law enforcement, which will further promote and expand bilateral links in important areas of national security for both nations.
The two parties agreed to increase coordination to prevent and face any terrorist actions, drug trafficking, crimes in the field of information technology, and issues related to cyber-security of mutual interest, as well as the trafficking in persons, smuggling of migrants, wildlife and flora species, money laundry, forgery of I.D. and travel documents, the smuggling of weapons, ammunition, explosives, cash, among other crimes in both countries´ jurisdiction.
The MOU was penned by Cuba´s Interior minister, Rear-Admiral Julio Cesar Garandilla and by US Charge d´affairs in Havana, Ambassador Jeffrey DeLaurentis.
The ceremony was attended by the US Deputy National Security advisor Ben Rhodes, who is on an official visit to Cuba, as well as by representatives of the National Security and Defense Commission and the Cuban Foreign Ministry.


---
Related News
---