Strong category 4 hurricane Matthew approaches Cuba
Submitted by: Juana

10 / 03 / 2016
---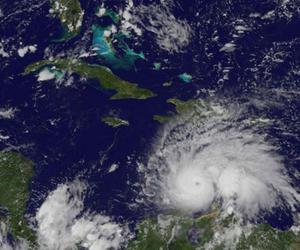 ---
The Cuban National Civil Defense stressed on the importance of working fast on the preparations since Matthew, a category four hurricane, threatens to hit Eastern Cuba through its South Coast.
This situation demands to take measures on advance to minimize its destruction and to preserve human lives and material goods in each Cuban eastern province, and even as far as the central ones.
Minister of Environment, Science and Technology, Elba Rosa Perez, said scientist throughout the country are paying close attention to the development of the storm and to apply the recommendations that came out of vulnerability and risk assessment studies, that will tell people what to do at each moment, according to the territory's characteristics.
Matthew is still a powerful hurricane despite losing some strength in the last hours, and its winds have a maximum speed of 230 kilometers per hour (145 mph) with higher gusts, and its central pressure is 947 hecto Pascal.
This is the strongest hurricane in the Caribbean basin since 2007, when Hurricane Felix reached the category five of the Saffir Simpson scale.
The majority of forecasts indicates it will start affecting the southern coast of Cuba within the next 72-96 hours, but the diameter of the storm reaches some 600 kilometers, which translates in covering the entire east of Cuba.
Rains can be particularly heavy, with accumulates ranging from 300 to 400 milimeters in 24 hours in some areas, that will cause floods and wreak havoc along its path, specialists said in the meeting.
The representatives of the Cuban Civil Defense explained that all five eastern Cuba provinces are in the informative phase, and said each working group in the area are analyzing the measures to be taken before, during and after the storm strikes.
They assured all mechanisms to inform and evacuate persons, to protect lives and resources are ready.
---
Related News
---