Tropical storm Matthew might become a hurricane on Friday
Submitted by: Juana

09 / 29 / 2016
---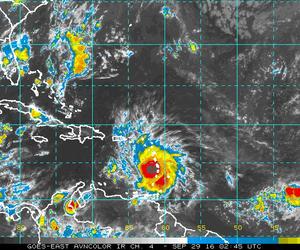 ---
The Institute of Meteorology announced the tropical cyclone warning number two on Tropical Storm Matthew. According to the statement, Matthew has had little change in intensity, maintains maximum sustained winds of 95 kilometers per hour with higher gusts, a minimum central pressure of 1008 hPa, and is heading west at about 30 kph.
At six o'clock in yesterday afternoon, the center of Matthew was estimated at 13.8 degrees north latitude and 62.3 degrees west longitude, at about 780 kilometers east northeast of Curacao, Netherlands Antilles.
Matthew could become hurricane on Friday, meanwhile in the next 12 to 24 hours this tropical storm will continue to gain in intensity as it moves with a similar course and decreasing its speed.
Given the time of the year and the position and motion of Matthew, the Forecast Center of the Institute of Meteorology will keep close watch on its evolution and future trajectory.
---
Related News
---