Shaquille O'Neal is in Havana
Submitted by: Juana

06 / 27 / 2016
---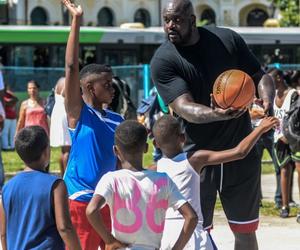 ---
The once prominent American basketball player Shaquille O'Neal arrived in Havana on Saturday and shared with Cuban players, whom he conveyed his advice to be better on the court.
O'Neal participated in a practice with members of Capitalinos team, runners-up of Cuba's Superior Basketball League.
Under the watchful eyes of children, young people, Cuban sports glories and the general public, the American basketball legend was again protagonist of the game that made him famous worldwide, but this time his role was to teach and correct deficiencies.
In just over an hour, O'Neal, 44, shared his experiences and lessons and delighted everyone attending the clinic where he also gave away balls autographed by him to the winners in skills tests.
Shaquille O'Neal, who won four titles in the NBA, three with Los Angeles Lakers and another with the Miami Heat, is considered one of the most dominating pivots in the history of the league.
His career lasted 19 seasons, in which he had 14 appearances in All-Star Games and was elected three times MVP in finals.
In his successful sporting career, Shaquille was named Rookie of the Year and also won the gold medal in the 1996 Summer Olympics and the World Championships in Canada in 1994, in both contests with the US team.
Moreover, he is the seventh leading scorer in NBA history with 28 596 points, and ranks 14th in rebounds with 13 099.
---
Related News
---