German tourists thank Cuban medical attention after traffic accident
Submitted by: Juana

04 / 05 / 2016
---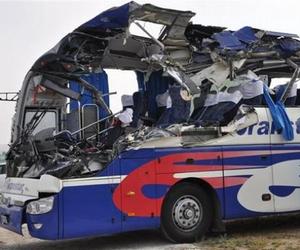 ---
Andrea Scholl and Chistof Scholl are a German couple who underwent a traffic accident while visiting Cuba as tourists, which resulted in two people dead and 28 injured. They extended their gratefulness to the medical assistance received immediately after the tragic event.
The accident took place last Saturday after 6 pm on the main road that runs east to west through the island, near a town called Jatibonico, in central Sancti Spiritus province when the tourist bus, where the couple had boarded collided against container that fell on the road from a truck.
Just few minutes after the accident occurred, the ambulances arrived to transfer the people to the hospital, said the couple and stressed the fast reaction of Cuban authorities and the medical personnel in assisting the victims of the accident.
The accident was very traumatic because we were trapped in the rear of the bus and they had to evacuate us by using a ladder with the help of the locals, said Andrea and Chistof who were visiting Cuba for their second time.
The police reported the death of the bus driver, Alkier Barrera, and of Austrian tourist Johann Eberl.
---
Related News
---