Cuba wins three gold medals in Judo Grand Prix in Buenos Aires
Submitted by: Juana

03 / 16 / 2016
---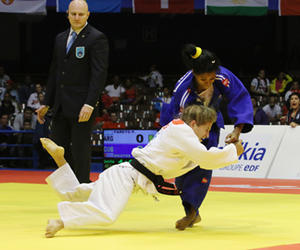 ---
Cuba ended with three gold medals and a fifth seat in the Buenos Aires Judo Open, in Argentina, finishing thus second in a tournament that was attended by 239 athletes from 45 countries in search of points for the Olympic ranking.
The three crowns were to Magdiel Estrada, in the 73 kilograms, Maricet Espinosa (63) and Onix Cortes (70), while Ivan Silva (81) finished fifth, also contributing to the position achieved by the four Cubans in the final overall table.
Estrada and Espinosa won the scepter with four wins each, while Cortés won thrice, the last one of these over Russian Irina Gazieva, by Ippon .
Cortés reached the final with wins in the preliminary phase over Belgian Lola Mansour ( 2-0), and Puerto Rican Maria Perez (2-1), the latter in semifinals.
Meanwhile, Silva finished fifth with balance of two wins and two losses, the last one (1-3) to British Owen Livesey, who won the bronze medal.
Previously, Silva beat American Shintaro Higashi (Ippon) in his first bout, but then he lost (2-0) to Turkish Emirhan Yucel who sent him to the play-offs stage where he won (2 -0) over Serb Nemanja Petrovic, result that earned him to discuss the bronze medal.
Russia was the overall winner with three gold, three silver and two bronze medals, followed by Cuba (3-0-0), Spain (2-1-1), Brazil (1-1-4) , France ( 1-0-4), Azerbaijan (1-0-1), Italy (1-0-0), Georgia (1-0-0) and Lebanon (1-0-0).
Last weekend, Espinosa, Cortes and Estrada won gold, silver and bronze medals respectively in the Lima Open, in Peru, where Silva did not compete.
The world ranking toward the Olympic Games next August in Rio de Janeiro grants 22 direct tickets for men and 14 to the women, in 14 divisions (both sexes), in which each nation will be represented by only one judoka.

---
Related News
---