United Nations recognizes Cuba's role in South-South cooperation
Submitted by: Juana

10 / 22 / 2015
---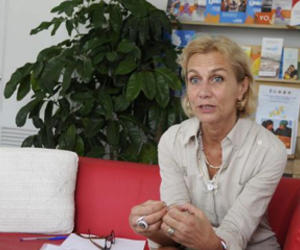 ---
Cuba has a long tradition in South-South cooperation and a strong presence in the countries of the region, most notably for its development in health and education, said in this capital Myrta Kaulard, resident coordinator of the United Nations System (UNS) in the country.
"States in the region have much to learn from the island, as the exchange of knowledge, ideas and experiences is a fundamental element for achieving the objectives of both the Millennium Development Goals as Sustainable," said Kaulard.
She referred to Cuba's rapid response to natural disasters, and said it is necessary to share its model of Civil Defense, as well as its legal framework and methodologies, which allow the effective functioning of that entity.
"Cuba has very important achievements, particularly in health, the spread of HIV-AIDS is very limited, and recently the elimination of mother to child transmission was certified," said Kaulard.
She recalled that during her stay in Haiti Cuban doctors supported that nation affected by cholera, and said that the missions are a strength and a way to share knowledge.
source: www.cibercuba.com
---
Related News
---