UN recognizes Cuba's efforts in soil protection
Submitted by: Juana

10 / 22 / 2015
---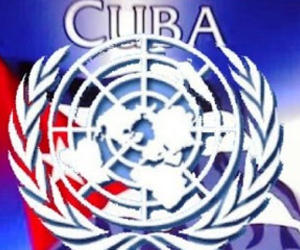 ---
Myrta Kaulard, coordinator and resident representative of the United Nations for Development Program (UNDP), acknowledged on Tuesday in this capital Cuba's efforts to protect the soil.
The expert highlighted, during the end of a joint cooperation project, the role of the Cuban State in the implementation of policies and programs aimed at the sustainable management of land in severely degraded ecosystems in areas of Pinar del Rio and Guantanamo.
She said that in these areas soil erosion has stopped, rehabilitating and stabilizing rills, boosting fertilization with organic material, building drainage channels and reservoirs for irrigation water.
The participation of the Ministries of Science, Technology and Environment, Agriculture, Public Health, Tourism, Trade, Higher Education, Fisheries, Economy and Planning, among others, was decisive in these results.
Kaulard considered these experiences very profitable, which also contribute to combat the severe drought plaguing the country for months, which requires short, medium and long term solutions.
source: www.cibercuba.com
---
Related News
---