Viñales, global Cathedral of Tourism and Nature
Submitted by: Juana

07 / 23 / 2015
---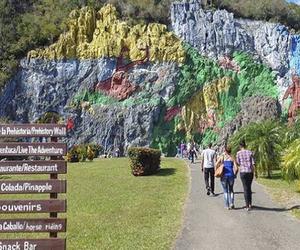 ---
The launch of products such as Tobacco Route and Canopy are expected by tour operators, travel agencies and numerous visitors from around the world who will participate in the tenth international event TURNAT 2015, on tourism and nature, in the Cuban renowned destination Viñales.
The valley of the west of the island, famous for its unique geographical elevations, will host this edition from 22 to 27 September, and it is estimated that participate hundreds of delegates interested in this type of tourism.
The presentation of the Tobacco Route arouses interest because the Cuban province stands out as the home of the best cigar in the world and the largest producer in the country. It offers a tour of the growing and processing chain of the sheet, a history that goes back hundreds of years in time.
Approximately two kilometers from the entrance to the Mural of Prehistory, participants can also enjoy the Canopy, 900 meters long and eight platforms.
source: www.cibercuba.com


---
Related News
---