Argentine candidate Daniel Scioli met with Raul Castro in Havana
Submitted by: Juana

07 / 23 / 2015
---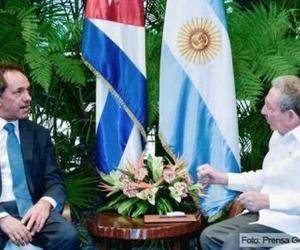 ---
Daniel Scioli, the presidential candidate of the Front for Victory met with the president Raul Castro, in Havana, just over two weeks before primaries in Argentina.
Castro welcomed Scioli at the Palace of the Revolution in Havana and expressed "the hope that the strong relationship between Cuba and Argentina, which has been promoted by Nestor Kirchner and President Cristina Fernandez, can continue like this."
"It is an honor to welcome my friend Daniel," said Castro after the meeting to the Argentine state agency Telam.
Scioli, Governor of the province of Buenos Aires, traveled to Cuba especially for the meeting with Castro in the middle of the electoral campaign for the simultaneous and mandatory primary elections next August 9 in Argentina.
It is the only presidential candidate of Kirchnerism and leads pre-election polls.
Castro and Scioli talked in Havana on bilateral issues, regional integration and the perspectives of the resumption of diplomatic relations between Cuba and the United States.
source: www.cibercuba.com


---
Related News
---