A Cuban vaccine against cholera
Submitted by: Juana

06 / 03 / 2015
---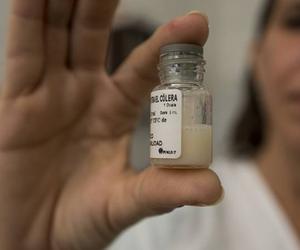 ---
Dr. Rafael Fando from the National Center for Scientific Research (CNIC by its Spanish acronym) is the principal investigator of the vaccine against cholera. The CNIC is half a century old and the average age of its scientists is of 40 years. It develops biomedical research on natural products, environmental studies and biological products to prevent infectious diseases.
The vaccine was a brainchild of Fidel Castro, in 1991, when the epidemic began in Peru . The work for this vaccine has almost 25 years since Cuba does not have sufficient resources to rapidly develop a vaccine for a disease that is hardly suffered in this country. We have progressed to the extent that there has been funding.
"We have never received international support. The credits in this project are distinctly Cuban, except the trial in Mozambique, where there was co-sponsorship with the Ministry of Health of that country, "Fando told AIN.
WHO believes that the Cuban vaccine is important for Haiti, which suffers a wide cholera epidemic and, coincidentally, "the vaccine we have been developing has the same serotype as the strain that affects Haiti," added Fando.
source: www.cibercuba.com
---
Related News
---