Miami sculpture marks 50-year anniversary of Cuba's child exodus
Submitted by: lena campos

10 / 20 / 2012
---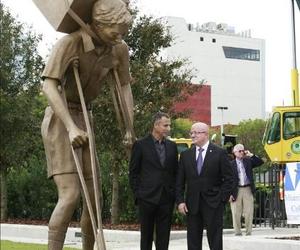 ---
Miami-Dade College unveiled a large-scale sculpture to mark the 50th anniversary of Operation Peter Pan, which resulted in 14,048 unaccompanied kids leaving Cuba in what is considered the largest child exodus in the West during the 20th century.
The sculpture titled "The Tower of Snow" was inaugurated Friday in a small park facing MDC's Freedom Tower, which was modeled on the Giralda in Seville, Spain, and designated in 2008 as a U.S. National Historic Landmark.
Between 1960 and 1974, the building was the first stop for refugees who fled the Caribbean island after the triumph of Fidel Castro's revolution in 1959.
The 3.3-meter-tall (11-foot-tall) bronze sculpture by Miami-based artist Enrique Martinez Celaya depicts a boy on crutches carrying a bundle in the shape of a house on his back.
It commemorates the plight of the thousands of Cuban minors who arrived unaccompanied in the United States between 1960 and 1962. The Pola brothers and Ramon Grau coordinated the program from Cuba, leading to their arrest.
"For years, feelings of displacement and foreignness had seemed specific to my experience. Then I began to read about 'Operation Peter Pan' and I found my story in many of their accounts," Martinez said ahead of the inauguration of the sculpture.
"This recognition brought along a new sense of belonging to a group larger than myself, a group whose longing did not fit in any one heart."
The artist, who was born just a few years after the operation concluded, also left Cuba as a young boy.
The architect of Operation Peter Pan was Monsignor Bryan O. Walsh, who was in charge of receiving Cuban children who traveled to the United States without parents, sending them on to camps and orphanages or to live with relatives or adoptive families.
Walsh came up with the idea for the operation, which officially concluded on Oct. 23, 1962, with the suspension of all commercial flights between the United States and Cuba, after being entrusted by a man to find refuge for a boy while his parents were trying to arrange their own exit from the island.
The monsignor, who died in 2001, realized there were many cases of unaccompanied Cuban minors who were arriving in the United States in search of a safe haven and contacted members of then-President Dwight Eisenhower's administration, who provided resources to support the program.
Among those who came to the United States thanks to Operation Peter Pan was Mel Martinez, a former U.S. senator from Florida who was Republican Party chairman from November 2006 to October 2007.
After Walsh's death, Martinez - the first Latino to serve as a chairman of a major party - remembered him as the man who gave him a life of freedom.
"In recent years, when we were in meetings in Miami, I thanked him for having given me the opportunity to be a free man in the United States," Martinez, who arrived as an adolescent at Camp Matecumbe during the church-sponsored operation, said in December 2001.
Source:latino.foxnews.com
---
Related News
---