The lionfish is a threat to coral reefs in Cuba
Submitted by: Luis Manuel Mazorra

10 / 26 / 2011
---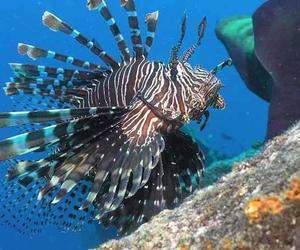 ---
An foreign species from the Indian and Pacific oceans (lionfish), is now considered a serious threat to coral reefs in the Caribbean.
Like many other areas of the region, the proliferation of this species has already reached alarming levels in large parts of Cuba especially in its northern coast.
This complicates the precarious environmental situation and are subject to corals and further clouding the outlook for your destination, told Prensa Latina the doctor of sciences, Peter Alcolado.
This is a voracious animal that feeds on larvae and juveniles of many fish and invertebrates, including lobster, said Alcolado, who serves at the Institute of Oceanology.
It is important to avoid large carnivorous fish species such as grouper, because they are the ones that can potentially control the lionfish, said the specialist.
Coral reefs are solid structures of undersea geological, biological origin, which are not only a natural protective barrier of costs, but also an important economic resource, social and landscape.
In Cuba, occupy over 98 percent of the edge of the shelf, but most are greatly affected by rising temperatures and ocean acidification, factors associated with climate change.
Hurricanes, whose intensity and frequency increased in the last decade with a significant impact in some areas of the island, also caused damage to these ecosystems recognized as the most biologically diverse, said Koran.
---
Related News
---