Seminar on Jose Martí and Jose Rizal
Submitted by: admin

06 / 23 / 2010
---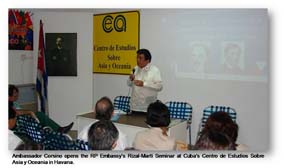 21 June 2010 - The Philippine Embassy in Cuba reported that it conducted a seminar on the striking resemblances in the life and patriotism of Jose Rizal and Jose Marti, the national heroes of the Philippines and Cuba, respectively, in Havana on June 18.

The seminar was sponsored by the Embassy, in cooperation with Cuba's Centro de Estudios sobre Asia y Oceania (CEAO).

It was held to jointly commemorate the 149th birth anniversary of Rizal and the 115th anniversary of Marti's fall in battle, as part of the Embassy's 2010 Independence Week celebration.

Philippine Ambassador to Cuba and a Knight Commander of the Knights of Rizal in the Philippines Dr. MacArthur F. Corsino, and CEAO Director Jose Y. Carretero opened the seminar.

The Ambassador enthralled the audience by declaiming Rizal's Mi Ultimo Adios.

The main lecturers were: Dr. Ana C. Sanchez, Director of the Center for Marti studies; Rev. Rodolfo V. Juarez, a Cuban pastor who spent six years in the Philippines; and Christian Benvenuto, a CEAO researcher on Asia.

Both Rizal and Marti were talented intellectuals, writers, socio-political thinkers, patriots and Masons who wrote extensively on liberty for their peoples and whose supreme sacrifice formed a momentous episode in their countries' revolutions against Spain.

Marti fell while leading a charge against Spanish forces at the Battle of Dos Rios on May 19, 1895 during the Cuban revolution, while Rizal was summarily executed by a Spanish-enforced firing squad on Dec. 30, 1896, accused of being the inspirational leader of and accessory to the Philippine revolution.

The seminar was attended by diplomats, academicians, government officials, and students.

It was a sequel to a previous one held on 19 June 2009, Rizal's birthday, which was witnessed by other members of the same category of attendees.

A slide presentation on the Philippines that combined "Wow Philippines" photos and Embassy activities served as the seminar's finale.

source: http://dfa.gov.ph/main/index.php/news-from-rp-embassies/
---
Related News
---