Georgia governor calls for freer U.S.-Cuba trade
Submitted by: admin

06 / 09 / 2010
---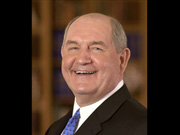 HAVANA (Reuters) – Georgia Governor Sonny Perdue called on Tuesday for freer trade between the United States and Cuba, saying it would help the longtime foes resolve their differences.

Perdue, a Republican, said he hoped the two countries would improve relations "very soon" so they "can join the hearts of our people in what would be the best outcome for both nations."

The governor spoke to reporters at the end of a three-day trip to Cuba with a Georgia trade delegation seeking business with the island.

The United States has imposed a trade embargo against Cuba since 1962, but agricultural goods are exempt from the sanctions, and Perdue said relaxing trade barriers further would help everybody.

"When we go back (to Georgia) what we will say is that there are opportunities for better jobs and prosperity in the United States as a result of trade with Cuba," he said.

"I will give them my opinion that I believe a freer trade environment to most countries would be helpful in our diplomatic and political relationships," he said.

The United States is Cuba's leading source of farm products, many of which come from Georgia, which sells poultry and other goods to the island. Its exports to Cuba totaled $42.5 million last year, according to the U.S. Department of Commerce.

WARMER RELATIONS

Perdue said no trade contracts were signed during this visit, but foundations were laid in meetings with Cuban trade officials for more business in the future.

The United States and Cuba have been at odds since the 1959 revolution that put Fidel Castro in power, but relations have warmed slightly since President Barack Obama took office last year.

Obama has eased the embargo to let Cuban Americans travel freely to their homeland and has begun talks with Cuba on migration and postal service issues.

Perdue is the first Republican governor from the U.S. deep South to visit the island in a number of years.

Even though Republicans have historically taken a tough stance against Cuba, he said "My sense is that we have had virtually no criticism for coming down here and trying to do a little trade."

Most people, Perdue said, understand that international trade creates a "better potential for world peace."

The most important thing he learned on the trip, Perdue said, was that "People are people. And while our countries have had our political differences, the warmth of human nature shines through."

(Editing by Sandra Maler)
By Jeff Franks Jeff Franks – Tue Jun 8, 4:16 pm ET
Source: Reuters
---
Related News
---