Minimal Invasive Surgery with positive results in Pinar del Río
Submitted by: admin

05 / 31 / 2010
---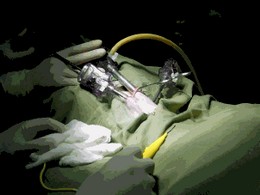 The Abel Santamaría Hospital in Pinar del Rio, only of its kind in Cuba that practices the minilaparoscopic-assisted transvaginal cholecystectomy since March 2008, has benefited 44 women carriers of symptomatic vesicular lithiasis.

Doctor Raul Castro Perez, who heads the general surgeons' team, with vast experience in minimally invasive surgery, noted the advantages of this viable and safe method,which is applied in first world countries like the United States, Germany and Brazil, among others.

Castro Pérez, professor of the Medical Science University of the western territory, explained that the patients operated ranked from 21 to 62 years old, the average time of the surgery was of 61 minutes, and in the post-surgical period it was necessary to administer analgesics only in two cases.

The expert noted that the patients were discharged before the 24 hours of the procedure and there weren't post-surgical complications after a 30 days monitoring period.

This surgery is performed through the vagina and the Pouch of Douglas (an extension of the peritoneal cavity between the rectum and back wall of the uterus) an almost painless zone that is in close contact with the peritoneal cavity and two bradawls are introduced, the specialist stressed.

This is a minimally invasive surgery and leaves no marks, the Cuban team performs it with rigid instruments, while in other nations the tools used are flexible and very expensive.

The chief of the provincial surgery group also announced that the abovementioned procedure has been also used in vaginal appendectomy to seven women with good results.

Pinar del Rio outstands in minimally invasive surgery and since 1996 to 2010 has performed over 2 600 laparoscopic appendectomies.

These achievements were presented at the 3rd International Congress and 4th Cuban Congress on Endoscopic Surgery held in Havana with the participation of over 400 experts of several countries.

Doctor Raul Castro Perez tackled topics like surgery through natural holes using the vaginal via, in a symposium attended by professors Michael Ganner and Lee L. Swanstron from United States and Jorn Bernhard, from Germany, utmost exponents of this kind of surgery in the world.

Source: Guerrillero.cu
---
Related News
---