Cuba visitors must have travel health insurance
Submitted by: admin

05 / 04 / 2010
---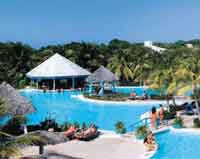 HAVANA — Cuba has quietly begun requiring foreign tourists and Cubans who live overseas to hold travel insurance approved by island authorities, while making those who don't have coverage buy a local policy that can cost over $3 a day.
The new law took effect Saturday and mandates that travelers who can't show they have authorized insurance buy a policy from state-run Cubatur before being allowed into the country.
A Cubatur kiosk at Havana's airport sold 113 policies on the first day alone, Ricardo Lopez, a Cubatur office manager, said Monday.
The measure was made law in February, but there had been no mention of how it would be implemented. A government spokeswoman said officials were still waiting for details Friday night, hours before the law took effect.
Lopez provided a government document explaining that kiosks selling health insurance had been established in international airports across Cuba. They accept U.S. or Canadian dollars, euros, British pounds and Swiss francs — though all prices are set in Cuban convertible pesos, pegged at US$1.08.
A policy covering medical expenses up to 7,000 pesos, or $7,560, costs between 2 and 3 pesos ($2.16-$3.24) a day, depending on an array of factors. Travelers 70 or older or those planning to engage in high-risk activities will have to pay an unspecified additional premium.
Lopez said he had not seen a list of what kinds of insurance was approved and from which countries, but said he had been told Cuba will accept state or private insurance from any country except the United States, given Washington's 48-year trade embargo.
He said all foreigners — except diplomats and those who live here while working for oversees companies — would be required to show proof of insurance. But enforcement appears spotty.
Interviews with five passengers getting off a flight from Toronto on Monday found that none had been asked to show insurance.
A passenger who arrived earlier from Buenos Aires, Argentina, and one who came from Mexico City on Saturday also said no one asked them to show proof of insurance.
A record 2.4 million foreigners came to Cuba last year, with Canada the largest source, followed by Britain, Spain, Italy and France.
Like communist Cuba, all those countries provide their citizens with health care financed totally by taxes, and often reimburse the cost of care during overseas travel. Still, Canada is recommending its citizens visiting Cuba purchase supplemental health insurance.
A Canadian government travel advisory says that "your provincial plan may cover only part of the costs and will not pay the bill upfront, as required.
By WILL WEISSERT (AP)
Source: AP-Yahoo
---
Related News
---