US Senate panel urges overhaul of broadcasts to Cuba
Submitted by: admin

05 / 04 / 2010
---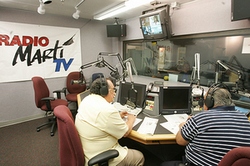 WASHINGTON (AFP) – US government-backed radio and television broadcasts into Cuba reach a tiny audience there and suffer from poor editorial standards, a US Senate Committee said in a scathing report released Monday.
Founded to give Cubans accurate, unbiased news programming, Radio Marti and TV Marti "have failed to make any discernable inroads into Cuban society or to influence the Cuban Government," said the Senate Foreign Relations Committee.
The panel's report, dated April 29, notes that US government-sponsored research has found that less than two percent of Cubans listen to Radio Marti, and "claims that TV Marti has any stable viewership are suspect."
The panel, led by Democratic Senator John Kerry, sharply criticized the Office of Cuba Broadcasting (OCB) that oversees both outlets has having "failed to adhere to generally accepted journalistic standards."
"Both internal and external investigations have criticized OCB for broadcasting unsubstantiated reports from Cuba as legitimate news stories, for using offensive and incendiary language in news broadcasts, and for a lack of timeliness in news reporting," the committee said.
And "interviews with recently arrived Cuban immigrants show that among those who were familiar with the broadcasts, only a small minority thought they were 'objective.'"
The report, entitled "Cuba: Immediate Action Is Needed to Ensure the Survivability of Radio and TV Marti," calls for moving OCB to Washington and integrate it with Voice of America (VOA) to boost its standards.
OCB must also "clean up its operation" by implementing editorial standards and drawing better on-air staff and managers, and "spend less money on measuring audience size and focus more on quality programming."
"We have to reinvigorate people-to-people relations with Cuba and enhance our outreach to civil society," said Kerry.
Source: Yahoo
---
Related News
---