Virginia wines meet Cuban cigars
Submitted by: admin

04 / 20 / 2010
---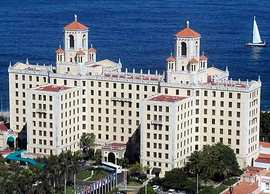 Former Virginia gubernatorial candidate Terry McAuliffe, who lost that state's 2009 Democratic nomination to Creigh Deeds , launched his own trade mission to Cuba last week with several Virginia businessmen.

McAuliffe journeyed to Cuba from April 12 through 15, where he persuaded the Cubans to accept more Virginia poultry, apples and soybeans -- and, for the first time, Virginia wine.

"There is a tremendous opportunity to create jobs in the U.S. by doing business in Cuba," said McAuliffe, who chaired Hilary Clinton's 2008 presidential campaign and is a close friend of former President Bill Clinton.

"Most importantly, we got them to agree to open up the market for Virginia wines. We are going to export Virginia wines to Cuba for the first time ever. "
The group met at the Havana offices of Alimport, the Cuban entity that signs all contracts with U.S. food and agriculture companies which sell to Cuba.

McAuliffe, 53, said the Cubans agreed to hold a Virginia wine exposition at a date to be decided, where Cuban government officials will host Old Dominion winemakers.

Accompanying McAuliffe were Jon Bowerbank, president of EMATS Inc., a utility infrastructure company from Southwest Virginia (Bowerbank unsuccessfully ran as a Democrat last year for Virginia lieutenant governor); James Reyes of Reyes Beverage Group of Northern Virginia, who discussed sales of U.S. beer to Cuba; Hani Masri, president of McLean-based Capital Corporation, who talked with the Cubans about selling them telecommunications equipment; and Blaze Wharton, a partner of Vigilant Worldwide Communications, who went to Cuba as a representative of Immune Tree, a Utah company which produces dairy products.

McAuliffe's group spent all four days in Havana, staying at the legendary Hotel Nacional de Cuba.

The trip came one day after he returned from visiting five Middle East countries, promoting his investments in green technology.

So are these kinds of trade missions, designed to create jobs for Virginians, a prelude to another run for the governor's mansion?

"I always keep my options open," said McAuliffe.

Is this business big enough for Case and Leonsis?

"Isn't it rich? Are we a pair?"

The first lines from Sondheim's "Send in the Clowns" perfectly describe the competition between best buddies Ted Leonsis and Steve Case.

Source: www.washingtonpost.com

---
Related News
---