Measures Taken to Minimize Drought Effects
Submitted by: admin

04 / 03 / 2010
---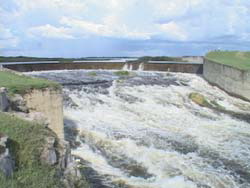 Ciego de Ávila takes measures to minimize the socioeconomic damages caused by drought, a phenomenon becoming noticeably and even worst through the last years in Cuba.
Fernando Fernández Burgos, leading specialist of Hydraulic Resources in the territory, informed that a provincial commission was set to regulate water consumption in the 15 sectors and institutions that spend the most.
Fernández said that this decision is preventive since rains during the last months were not significant for reservoirs or underground waters.
The specialist referred to the fact that superficial deposits are filled at 52 percent, while the underground-the largest in the country-show lower levels.
Domingo García Aguilar, the deputy director of Hydraulic Resources in the province, expressed that each of the relevant branches reactivated their plans to put them into practice in case it is necessary.
García said that ministries such as those of Agriculture and Sugar, largely depending on water, are aware of the behavior of its levels by means of the monitoring tasks conducted every month.
The data obtained-he added-will allow to make decisions on time, since largest quantity of water in the province is underground, a volume of 963 million cubic meters, distributed in 15 hydro-geological sectors, out of which seven have decreased volumes.
The State prioritizes the availability of this natural resource by means of the rehabilitation of pipes and the construction of canals to send water from one province to another. Due to the narrow and elongated shape of the Island, water tends to reach the sea very quickly.
Source: Invasor
---
Related News
---