Haiti prompts meeting of top Cuban, US officials
Submitted by: admin

04 / 02 / 2010
---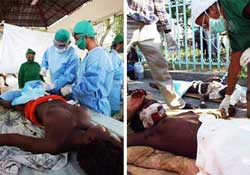 Cuba's foreign minister met with a top U.S. State Department official to coordinate medical help for quake-ravaged Haiti, one of the highest level encounters in years between the Cold War enemies, officials said Thursday.

State Department spokesman P.J. Crowley told reporters in Washington that Cuban Foreign Minister Bruno Rodriguez and Cheryl Mills, the chief of staff to U.S. Secretary of State Hillary Rodham Clinton, met Wednesday on the sidelines of a donor
conference at the United Nations that raised $9.9 billion for Haiti.

"We don't agree with Cuba and Venezuela on very much, but we all agree on the importance of assistance to Haiti," Crowley said.

Cuba issued a communique from the United Nations on Wednesday, confirming the meeting between Mills and Rodriguez and saying it hoped to see more such dialogue.

"We would hope that future exchanges of this nature are a possibility," the statement said.

The United States has spearheaded efforts to rebuild Haiti following the Jan. 12 temblor, which killed between 217,000 and 300,000 people and left the capital, Port-au-Prince, in ruins. Cuba, which boasts one of the region's best health sectors,
has also been a major player in the recovery effort.

Nearly 800 Cuban doctors have worked in Haiti since the quake, performing 7,000 operations. They have helped deliver 1,400 babies and immunized more than 100,000 people. Hundreds of other doctors trained in Cuba have joined their effort, which builds on a mission that Cuba had run in Haiti long before the quake.

The Cuban government has also allowed American relief planes destined for Haiti to overfly Cuban territory, greatly shortening the trip from American soil.

Mills "did meet with Cuban Foreign Minister Bruno Rodriguez to ensure that our assistance is consistent with the priorities established by the Haitian government," Crowley said.
"Cuba has volunteered significant assistance in the health sector and they want to make sure that this assistance is implemented in a coordinated fashion. It was a specific meeting about Cuba's support that they wish to provide."

Crowley said Mills also brought up the case of Alan P. Gross, a 60-year-old U.S. government contractor arrested in Havana on Dec. 3 on suspicion of spying.

Gross's company, DAI of Bethesda, Maryland, says he was distributing communications equipment to Cuba's tiny Jewish community, not to dissidents. Nonetheless, such equipment is tightly controlled by the government.

Cuba has so far not charged him, but officials including Cuban President Raul Castro have said his presence here was proof that Washington continues to seek the overthrow of the island's government.

Crowley said the issue of Gross came up "during the course of the conversation," but gave no details.

By PAUL HAVEN, Associated Press Writer

Source: Yahoo
---
Related News
---