Ars Longa in the 49 Week of Religious Music in Cuenca
Submitted by: admin

04 / 02 / 2010
---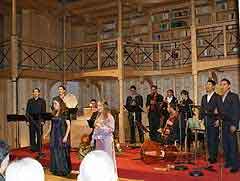 Ars Longa, the group of Old Music, took part last 28th of March with a unique concert dedicated to the American baroque in the 49 edition of the Week of Religious Music of Cuenca, a prestigious event held during the Holy Week in this city of the Spanish area of Castilla-La Mancha.
Ars Longa performed in the La Merced church, located next to the Plaza Mayor, where ended the Sunday procession, which started its pilgrimage very early in the morning, through the steep streets of this beautiful city, until it reached the historic center, famous for its hanging houses towards the Huecar river.
Broadcasted through Spanish National Radio, the Ars Longa concert opened a series of presentation that, under the titles "Mexico: un camino de ida y vuelta" (Mexico a two way road) is one of the main points of this musical week, which was also highlighted by the Mexican press, specially sent to report the event.
"Mexico is one of the countries that preserves its musical architectonic patrimony from the XVII and XVIII centuries", expressed Teresa Paz, the soprano and director of the group, in an exclusive interview to Notimex.
According to that same source, "the old music group, created in 1994 and belonging since 1995 to the Office of the Historian of the City of Havana, impressed for the surprising musical sound its small choir delivered."
The musicians of the Ars Longa group thanked the standing ovation given by the public, after which they performed the carol, Convidando está la noche written by the Mexican musician Juan García de Zéspedes (Puebla, 1619-1678).
"In a singular stage, a temple that became a library, Ars Longa showed their experience and their good work, emphasizing in their carefully entry to the stage and their constant changes of position, according to the voices and instruments used in each theme", highlighted the reporter from Notimex.
The presentation of Ars Longa was the second concert of the week, which continued that same Sunday afternoon with the performances of the famous groups Hillard Ensemble and Arditti Quartet, who played contemporary religious music.
Since the event was dedicated to Mexico, one of the chosen pieces was Kamek chab (Recibid lo creado), written by Hilda Paredes, the Mexican composer who lives in United Kingdom.
The 49 week of Religious Music of Cuenca was opened on Saturday the 27 of Marc by the recognized English choir The Sixteen and their orchestra of old instruments. They performed Misa in si minor by Johann Sebastian Bach at the Auditorium theater.
To the great German composer will be dedicated several concerts by very important groups such as Les Musiciens du Louvre and King's Consort.
Source: Opus Habana
---
Related News
---