"Second Dates" are good with Silvio
Submitted by: admin

03 / 31 / 2010
---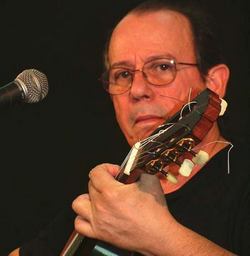 That hackneyed phrase of "second parts were never good" has anything to do with Silvio Rodriguez, who has just launched his latest album "Second Date", dedicated to the 50th anniversary of the Cuban Revolution.

Whatever I do these days, I will dedicate it to the Revolution, Silvio told reporters. I am seeing lately a very marked media aggression against Cuba. For half a century our enemies have done the same, but this time it seems higher, perhaps due to technological possibilities. I have lived in Cuba for 50 years and I continue to have reasons why to believe in the Revolution, rather than in its detractors.

This is a time when the country cries out for a revision. We have responsibility for what happens here. I think if we recognize that and we face it fearless, we will be better, concluded the singer-songwriter.

In the author's own words, "Second Date" is less controversial than its predecessor "Date with Angels", which was made with the rage of those days Iraq was invaded.
However, Silvio said that it may be more controversial locally as it deals with our conflicts, our reality. "These are ideas the singer launched to foster discussion. The song "Sea Señora" represents those concerns.

"Second Date" is also dedicated to the bicentennial of Charles Darwin and Edgar Allan Poe, two important figures very different between them who shared the spirit that helps us to discover things: the first, the obvious of nature and the other, that weird dimension moving human thought and feeling.

The album opens with "Toma" (Take). There are songs that ask and others that offer, "Toma" is a song that gives, says the poet.

This album is very diverse. In fact, the author of Ojalá tributes Violeta Parra, César Portillo de la Luz, Gabriel García Márquez, and Che Guevara with some songs.

Second Date, the song which gives title to this production, is beautiful from beginning to end. "It is the story of the pious being we have inside us."

According to Silvio, the living angels were the ones cheering up the album that has in its credits many young people, as singers Haydée Milanés, trumpeter Alexander Abreu, percussionist Oliver Valdés and Roberto Carcasses, in charge of the piano and some arrangements.
 
"I have wanted to do a project with Robertico for years. I have always liked to be surrounded with musicians that do different things because you always learn from the other."

This is a very fresh album. You feel a clear, simple melody, like a renaissance, while Silvio is still that "old singer-songwriter", whose imagination leads to commitment.

In "Second Date", you may listen to metals, percussion, and strings but the sound has the jazz trio (piano-bass-drums) as common denominator along with the guitar.

"I like that because I have always seen myself with a jazz trio singing standards (ballads that are timeless and have versions worldwide). It is really a very warm sound. It is like a continuation of intimacy that develops between a man and his guitar," says the poet.

Silvio said he was making music for films and he was very busy, but does not deny a possible meeting with the public along with those who accompanied him in the CD: "a time to share and enjoy for a while."

As for bootlegging, the singer-songwriter said he has never bothered that people exchange his songs. "That's how we begin to know each other. It was more important to share our music than to charge for a record. "That´s why I believe more in copyleft than in copyright," he said jokingly.

The cover "Second Date" shows a stairway to heaven and that view among clouds seems to be a rest. But those familiar with the poet know that he does not retire and therefore, he does not believe in a stationary universe. "A world without a revolution would be a world of deaths." Silvio remains among those alive.

By Elizabeth Lopez Corzo

Source: Cubasi
---
Related News
---