Preval Hopeful about Memorandum with Cuba and Brazil
Submitted by: admin

03 / 29 / 2010
---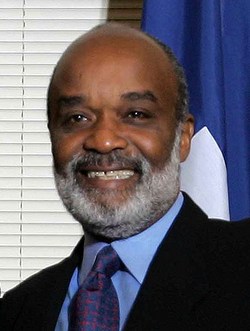 Haitian President Rene Preval expressed hopes about the future of public health in his country after signing a memorandum of understanding with Cuba and Brazil on Saturday.

Preval penned the document shortly after Health Ministers Jose Ramon Balaguer (Cuba), Alex Larsen (Haiti) and Jose Gomes (Brazil) did the same, and ratified his confidence in the possibilities of that instrument.

"In 1998, Cuba began a program of collaboration with Haiti in the field of health that included two aspects.
The first consisted of sending doctors to our country and the second one was aimed at training our professionals in Cuba, with the purpose of replacing them as our doctors were graduating," he recalled.

According to Preval, the Haitian people highly value the Cuban doctors' work: "They were in all towns to provide medical care and services to Haitians."

The president noted that Cubans have always been very careful to avoid contradictions or competition with local physicians who practice private medicine.

They have always expressed interest in traveling to faraway regions that Haitian doctors never visited, and on one occasion I heard a local resident say that "Cuban doctors were after God", he added.

He celebrated the fact that Haiti can also count on Brazil's collaboration, and noted that despite a 50-year-old blockade, Cuba "has always been willing to help. So this time, it will use Brazil's resources and expertise to continue that work.

Preval also noted Brazil's collaboration after the January 12 earthquake that killed 220,000 people, wounded 300,000 and left more than one million Haitians homeless.

Brazil will also train Haitian doctors, create institutions and improve the country's medical infrastructure, according to Preval.

"This is the occasion to thank the governments of Brazil and Cuba for their will to join Haiti to take care of its people," the president stressed.

Source: PL
---
Related News
---