Carlos Acosta with the Ballet Nacional de Cuba
Submitted by: admin

03 / 28 / 2010
---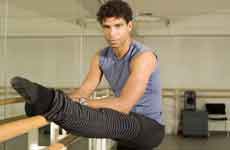 Cuban ballet star Carlos Acosta talks about mango trees, dominoes and how dance keeps homesickness at bay Yes in Islington. "It is too early in the morning to smile," he tells our photographer.
He looks preoccupied and moves with a wary, imperious grace but is sweetness itself. As I sit with him in his dressing room, he does not waste time. He pulls on his leg warmers, starts stretching exercises.
Often described as Nureyev's successor, the man has such presence that I find it hard to concentrate.

He talks about his day – he always starts with eggs, yoghurt and fruit. And I remind him how, in his memoir about growing up in Cuba, No Way Home, he describes stealing fruit. At least he does not have to do that any more. "There are no mango trees in London," he says sadly. This makes me laugh, but Acosta's sadness is genuine: "Cuba is in my heart – it defines me," he explains. He has lived in London for 12 years. Dance is his cure for homesickness, his "escape".

This morning he is thrilled because he is about to dance with the Ballet Nacional de Cuba for the first time in the UK. What excites him most is that his "very talented" nephew, Yonah Acosta, will be dancing with him.
He moves to the floor to continue his stretching, with languid discipline, at my feet. It is a novel situation from which to interrogate him about the woman in his life.
"I have a fiancee, Charlotte Holland. She is not a dancer." One day, he plans a family. He explains he needs to get away from dance to "play dominoes, listen to Cuban music, eat black beans and chicken".
Meanwhile, his fiancee is writing a novel. And, remarkably given his dance schedule, he is too. He reels off its title in Spanish. Translation?

There is something else to clear up. Acosta has been described as a Cuban Billy Elliot. "It is the reverse," he insists. His father forced him to ballet school. He always wanted to be a footballer. "But how can you complain with a career like mine? I am only sitting here talking to you now because of my father's vision – I can only say thanks to him."

Ballet Nacional de Cuba perform as part of Spring Dance at the Coliseum from 30 March (www.eno.org)

Source: www.guardian.co.uk/

---
Related News
---