Chucho Valdes Ties Music Strings Between Cuba and Southeastern Asia
Submitted by: admin

03 / 26 / 2010
---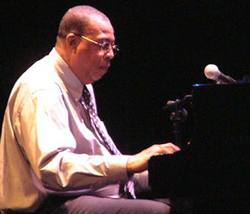 Music was proved to be an excellent bond to bring peoples together, as demonstrated by Cuban pianist Chucho Valdes and his jazz quintet in his recent concerts in Singapore and Kuala Lumpur, Malaysia.

Barely one month and a half after winning his 6th Grammy award, the musician (68), presented the bets of his work in his first concerts in Southeastern Asia.
  
Valdes played in the closing gala of the Festival of the Mosaic of the Music in the Esplanade Theater of Singapore last Sunday and on the next day, he performed in the concert hall of the Philharmonic Orchestra of Malaysia (MPO), located in the Petronas Twin Towers.

Accompanied by bass player Lazaro Rivero, drummer Juan Carlos Rojas, young man Yaroldy Abreu in the drums and singer Mayra Caridad Valdes, Chucho displayed his virtuosity and won the sympathy of the public from the moment he played the first accords on the piano.

An environment of complicity merged between Valdes and his sister Mayra Caridad in the interpretation of Valdes' version of Besame Mucho, which was very well received by the public that sang fragments of the song along with the singer.
  
During his stay in the capital of Malaysia, FAO´s Goodwill Ambassador Valdes gave a lecture to nearly 100 people including musicians and spectators showing off not only his musical talent but also his skills as a teacher and his charisma.
  
The concert "Mucho Chucho" in Kuala Lumpur marked the 35th anniversary of the establishment of diplomatic relations between Cuba and Malaysia.

Chucho Valdes won recently his 6th Latin Grammy award for his CD Juntos para Siempre, recorded with his father.
 
Before leaving to Japan where he is going to make two presentations, Chucho announced his newest projects.
"I´m recording a beautiful album with Omara Portuondo, with piano and voice only. We wrote eight songs and only four of them are left to be recorded. We are very happy. We have made a very good recording job," he noted while highlighting Omara´s performance and her bonding with the accompanying piano.
  
Labeled as the most complete pianist of the world by the Jazz Magazine, Chucho reiterated the formula to achieve so much success.
  
"Play, work, rehearse, train without ever stopping. Continue experimenting, support the work of his children. Move forward and continue creating new things. That is the raison d´être of a musician and these two Grammy awards were very encouraging," he noted. 
Source: Escambray
---
Related News
---