Canvas of a woman in waiting
Submitted by: admin

03 / 26 / 2010
---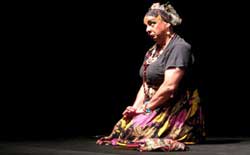 The company from Pinar del Rio Rumbo Theater presented a season in Adolfo Llaurado room of the Cuban capital as part of its national tour 2010. Among the proposals, a solo performance of Jorge Lugo: Canvas of a Woman in Waiting.
Canvas of a Woman in Waiting, staging of Andres Piñero for the theater group of Pinar del Rio Rumbo Theater, is one of so many solo performances that last through time, rather for the story than for the character.
The piece shows a mature woman who grinding out the changes of her existence, her struggle for survival in a hostile atmosphere, her dreams and frustrations, her memoirs. in a monologue that seeks to be chronic of a particularly complex time: the hardest years of the crisis, of the so-called Special Period.
Therefore, this is a story with a great charge of drama, of catharsis, but also (for an old saying that goes Cubans laugh at their misfortunes) marked by a singular sense of humor.
The empathy with the public is guaranteed (there's nothing like talking to the people about their everyday life, of a story they have shared), but in the long run the work is weakened by its circumstantialities'.
The fact is that the text is too attached to the here and now, up to the point that the drama seems more concerned to approach the entire bunch of calamities of a time that in singling out an itinerary.
Nevertheless, it's more than praiseworthy the know-how and sensibility of the playwright Jorge Lugo when creating the character, and embodying it (he is also the interpreter). He finally wins over the public.
By Yuris Norido    
Source: Guerrillero
---
Related News
---