Calle 13 says good bye
Submitted by: admin

03 / 26 / 2010
---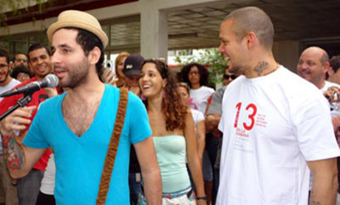 Under the trail of the spectacular concert of Tuesday at the Antimperialist Tribune, the duet Calle 13 says farewell to Cuba. They and the Cuban Kelvis Ochoa visited on Wednesday the primary school "Carlos Muñiz Varela", in the municipality of Bauta, located to the Southwest of the Cuban capital.

Many of those who crowd at the school entrance, waiting sine hours earlier for Rene Perez (Residente) and Educardo Cabra (Visitante) had journeyed the previous day 40 kilometers from this country community to the Havana Seawall, and now they applauded the children who interpreted for the recently arrived singers the poem The Wall, of Nicolas Guillen, and Cuba how Pretty is Cuba, of Eduardo Saborit.

As announced on Sunday a few moments after their landing in Jose Marti Airport, this visit to the Carlos Muñiz Varela School was a family debt. Reinaldo, Rene's father, was friend of the martyr of the Cuban emigration, murdered in San Juan, in 1979, without the perpetuators being processed by the crime. The FBI still waits for incriminating documents and protects the murderers.

The siblings Rene, Eduardo, Milena, and Ileana, the heart of Calle 13, handed the school headmaster an envelope with several pictures of Carlos Muñiz Varela, family and friends that they have brought from Puerto Rico, a jewel for the modest school.

They talked to the children, took a few pictures, asked for the pictures hung on the infantile murals, they played around with the children and their teachers who enjoyed that encounter as if it were a party.

calle13 on the bus, from the crowd appeared a humble man who gave Rene a baseball T-shirt of Cuba. Rene wore it at once, among laughs and hand squeezes.

"You are an example of resistance", said Tanya Valett, headmaster of the International Cinema and Television School (EICTV) of San Antonio de los Baños.
"We are very proud of receiving Calle 13 in this place, because besides making good music it's a group of ideological resistance that supports countries of Latin American and the world when they demand the United States freedom to defend and strengthen the national politics of our countries."

Calle 13 spoke with a group of students from Puerto Rico who previously, from the school scenario, had thanked the visit of the Puerto Rican musicians.

Eduardo Cabra said to be happy of having the chance to establish contacts with filmmakers, because he has always wanted to make music for films: "I am in fire with that", he said.
Rene Perez commented that one of his dreams had been to study here: "In the end I didn't come I don't know why. I'm still on time, no? Because I want to make cinema, I'd like to do it although the movie only lasts three minutes.

So I am a big fun of all of you who study here...I dream of making (a short film) cinema, although it lasts 30 seconds."

His sister Milena interrupted at that point and revealed that René had already filmed a short film, but he was just ashamed to show it.

Calle 13 members arrived in Cuba last Sunday. During their stay they have also exchanged with a representation of new creators in Casa de las Americas, in the capital, and on Tuesday they made the Antillean people shake with a concert offered at the Anti-imperialist Tribune Jose Marti of Havana.

Calle 13 visited all the spaces of the house of studies including the students' rooms and then they sustained a more extensive exchange with the students who asked them to sing at least one song.

In the evening, the Aragon Orchestra offered them a special concert. They travel to Miami city this Thursday, where they will offer a concert in the evening hours.

Source: Cubasi.com
---
Related News
---