Contemporary take on Cuba's Danzón comes to Strathmore
Submitted by: admin

03 / 23 / 2010
---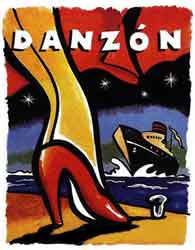 Forget Ricky Ricardo and his rendition of "Babalu." Cuba's artistic contributions are much more than a steamy evening at The Tropicana. 
And to prove this point, a coolly contemporary version of "Danzón" — meaning "big dance" and once the island's national dance — will be performed by the Luna Negra Dance Theatre, on Friday at the Music Center at Strathmore.

"I took from the original, which includes typical courting and acknowledging a partner, and fusing the contemporary with traditional ideas," explains Eduardo Vilaro, Luna Negra's former artistic director, who has moved on to the same position at the Ballet Hispanico in New York.
"Some of the duet exemplifies Danzón's history, but it is combined with contemporary ballet and music."

That is when the memory of Danzón and its importance in dance history came into play for the artistic director. He learned that the island's colonization by the French and Spanish created an intermingling of each nation's rhythmic sensibilities.
Then, coupled with African influences, Danzón became the "grandparent of the cha cha, salsa and rumba," he points out.

Vilaro didn't have an "aha" moment. Rather, he explains, dance ideas "are always running around in my brain."

Summer echoes that philosophy.

"Danzón" became a reality with a commission from Strathmore and the University of Notre Dame's DeBartolo Performing Arts Center. It premiered last year in Chicago.

Strathmore presents Luna Negra Dance Theatre and the Turtle Island Quartet performing "Danzón" at 8 p.m. Friday at the Music Center at Strathmore, 5301 Tuckerman Lane, North Bethesda.

Source: www.gazette.net

---
Related News
---