Guach Palace, The Strangest Building of Cuba
Submitted by: admin

03 / 22 / 2010
---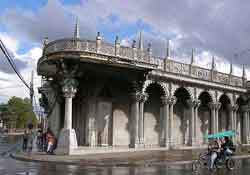 In a central and crowded corner of the western city of Pinar del Rio, it's located what some people consider the strangest construction of the country, the so-called Guach Palace.  
This building, as extravagant or ugly as it may look for some neighbors, is the visited headquarters of the local museum of Natural Sciences, by the way, very well endowed.  
That property which now reaches one century, is the first exponent of the varied eclecticism of its time, at the beginning of
the 20th century, thanks to the constructive styles revealing in its structure, with intricate ogival arcs resembling the Moorish from Granada, grooved columns in group and very attractive and differentiated artistic steeples, and spikes raised ungrounded in the roof of its only floor.  
It is much decorated with diverse formats, and its saloons seem to embellish the half point arch, in horseshoe or ogival shape, but finished in a more marked point.  
Such group which is so difficult to describe for its diversity, doesn't lose much harmony and much less with the scientific content of its present exhibition that its promoter, Doctor Francisco Guach y Ferrer, could never imagine.  
The doctor who devised and built that intricate palace had lived for a while in Spain and around 1909 settled in Pinar del Rio, when he began the polemic project of the house and medical office which is considered the dream of his life.
Doctor Guach won fame as a versatile collector, besides his works as geologist, sportsman, painter, poet, sculptor, architect, and pigeon fancier, activity in which he had an outstanding development by creating a dove breed.  
He was acknowledged for his skillfulness with clay, cement, wood, and the chisels. With those skills and Iberian influences, was built this disconcerting house where, it's estimated, armed concrete was first used in Cuba.  
In the Guach Palace are recognized modernist influences, with a predominant and early Catalan feature. There are experts who attribute to the use of treenails its extravagant forms that inevitably remember the famous constructions of Guell Palace, the Batllo house or The Famous Quarry, among so many, in the beautiful style of modernism from Barcelona. (AIN)  
By: Fernando Davalos  
Special of AIN
Source Cubasi
---
Related News
---