Culinary links between Cuba and Canada
Submitted by: admin

03 / 22 / 2010
---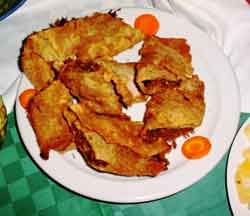 Everything started back in Camaguey City on February 1999 when a delegation of Canadian citizens, mainly chefs, came to Cuba and tasted typical meals from Matanzas, Cienfuegos, Havana, Santiago de Cuba and Camagüey.
Most of them were captivated by Camagüey´s dishes during their stay and since then it has been almost compulsory stopping at the Casa del Chef, on centric Calle República, headquarter of the Culinary Association, every time they come to the Greatest of the Antilles.
Memories about the First Culinary Workshop, celebrated at charming restaurant Bodegón Don Cayetano, are still fresh among chefs of the two countries, who elaborated exquisite dishes for the occasion.
Wendy Holm is the permanent leader of every new group coming to the city. They usually enjoy regional meals like the traditional ajiaco (meat and groceries broth), matajíbaro (plantains and fried pork skin), salted beef, rice and corn and many others dishes of the local cuisine.
AN "ALMOST CUBAN" CANADIAN
Wendy seems Cuban because of her friendly character, her restless look and her knowledge about Cuban themes; besides, she also speaks Spanish rather fluently.
She has come to Cuba regularly for several years; she uses to make jokes about her been in Cuba for more than a hundred times; though probably not so many occasions, she had actually come for many, many times.
Mrs. Holm has a solid professional formation: economist, agrology expert, university teacher and responsible for a Canada-Cuba collaboration project started in 2004 to increase sustainable milk production in the Island in association with Cuban Farmers Union.
Because of her continuous effort, numerous Canadian cooks as well as more than 550 farmers and 60 agriculture students have come to Cuba, a sample that shows she rates farming production and food preparation at the same level.
"The smells and flavors of Cuban cuisine are the result of the blending of Cuban native aborigines, Africans, Chinese, Jews, French and Spanish people. One can taste here either recipes dating from earlier centuries or contemporary culinary interpretations."
"Our partner is the Cuban Federation of Culinary Associations. In major cities we always meet at the headquarters of the associations to spend an afternoon surrounded by the best cooks and to taste typical meals of every region."
Source: Adelante.cu
---
Related News
---