Magali Llort to Demand the Release from Prison of the Cuban Five
Submitted by: admin

03 / 22 / 2010
---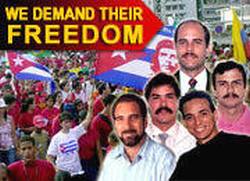 The forum for the release from prison of the five Cuban heroes incarcerated in the United States that will begin on March 22 in Santo Domingo will be attended by Magaly Llort, the mother of Fernando Gonzalez.
Fernando, along with Ramon Labañino, Rene Gonzalez, Antonio Guerrero and Gerardo Hernandez, have been in prison in the United States for over 11 years now, for monitoring the activities of Florida-based mafia groups responsible for terrorist actions
against the Caribbean Island.
Llort, who is also a parliamentarian, will travel to the Dominican Republic to denounce the injustice committed against her son and his companions, according to an announcement made in that nation by Cuban ambassador Juan Astiasaran.
The Cultural and Academic Forum that will be held at the Main Hall of Economy of the Autonomous University of Santo Domingo (UASD), has been organized by this center of higher studies in coordination with the Campaign in Solidarity with Cuba and the
Embassy of the Republic of Cuba.
Also present will be Puerto Rican pro-independence fighter Rafael Anglada, who is a member of the Free the Five Committee.
Both Anglada and Llort will address participants to analyze the case of the Cuban Five.
During the meeting, Dominican singer-songwriter Virna Garcia will perform songs dedicated to The Five, as they're known internationally in circles supporting their cause.  
Likewise, Llort will preside over a meeting in San Francisco de Macoris, according to information published by the Cuban Foreign Ministry's web site.  
Source: ACN
---
Related News
---