Fidel and Raul Send Special Greetings to the President of Namibia
Submitted by: admin

03 / 22 / 2010
---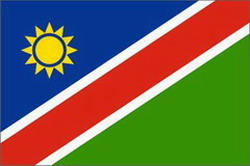 Special greetings to Namibian President Hifikepunye Lucas Pohamba on behalf of Revolution leader Fidel Castro and President Raul Castro were conveyed by Army Corps General Leopoldo Cintra.
Cintra, member of the Politburo of the Cuban Communist Party and First Deputy Minister of the Revolutionary Armed Forces, spoke during the political and cultural ceremony held at Havana's Universal Hall on the occasion of the 20th anniversary of
the creation of the Republic of Namibia.
He highlighted how many Cubans and Namibians gave their lives for that nation's independence and against the inhuman apartheid regime.
What we did then with weapons we're now consolidating by way of mutual and selfless cooperation, said Cintra, also a Hero of the Republic of Cuba.
Namibia's ambassador to Havana, Claudia Grace Uushona, expressed the gratitude of her people towards all those Cubans who, in extraordinary gesture, gave their lives for her country's independence and freedom.
She also pointed out that the island has the glory of having created the only army that crossed the Atlantic Ocean on behalf of internationalism and justice to contribute to put an end to colonialism and apartheid.
That sacrifice will be written forever on the pages of history with golden letters, she said in the presence of Cuban leaders, internationalist combatants, officers and civilian workers of the Armed Forces, and students from several military educational institutions.
The ceremony was presided over by Army Corps General Abelardo Colome, Hero of the Republic of Cuba and Minister of the Interior, and was attended by Health Minister Jose Ramon Balaguer and Basic Industry Minister Yadira Garcia, all of them members of the Politburo.
Also present in the ceremony were Foreign Minister Bruno Rodriguez, Lazara Mercedes Lopez, first secretary of the Cuban Communist Party in this capital, and the ambassadors from the Russian Federation and the Popular Republics of China and
Angola.  
Source: ACN
---
Related News
---