Argos Teatro toward Spain with its "Reino dividido"
Submitted by: admin

03 / 21 / 2010
---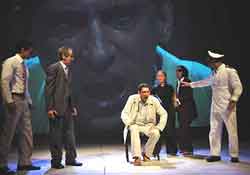 After its premiere in Havana, the piece by journalist and playwright Amado del Pino, staged by director Carlos Celdran and Argos Teatro, heads toward the peninsula, to take this moving and lyrical revisitation of the civil war days to the compatriots of poet Miguel Hernandez.
When the entire Ibero-America is celebrating, especially Spain and Cuba with real passion, the centennial birthday of the singer of "Vientos del Pueblo" and "El silbo vulnerado", which will be marked next October, and also on occasion of the anniversary of his tragic death, in Franco's jails and prisons, the Cuban theater group will make the presentations of "Reino dividido", starting March 28, at Arniches Theater in Alicante. This said piece won the "2008 Arniches Award" in Spain.
The tour of Argos Teatro will extend until April, with their presentation at Teatro Circo in Orihuela, community where Miguel Hernandez was born.
This Cuban dramatic group is also scheduled to make other presentations in important cities in Castilla-Leon and Andalusia such as Salamanca, Granada, Seville, Leon, and to participate with the presentation of "Reino dividido" at the closing ceremony of the Congress of the Writers' Association of Spain, in Linares, Jaen province, south of the Iberian peninsula.
The performances of the Cuban theater group with the staging of "Reino dividido", are sponsored, in the peninsula by the Miguel Hernandez Cultural Foundation in Orihuela, in collaboration with the Pablo de la Torriente Cultural Center of the island, institutions that have joined their efforts and resources to render tribute to the great Spanish poet of "El rayo que no cesa".
The lively dialogue, on stage, which articulates Amado del Pino's piece and Carlos Celdran's staging, also allows the audience to come closer to the deeply-felt friendship that nurtured the participation as much of poet Miguel Hernandez, as the Puerto Rican-Cuban journalist and writer Pablo de la Torriente Brau, during the Civil War days.
The presentations also include the participation of actors from diverse generations, among which stand out veteran Pancho Garcia and others such as Jose Luis Hidalgo, (who plays the Spanish poet) and Lieter Ledesma (who plays the role of Pablo de la Torriente).
Por: By Uriel Medina
Source: Cubasi
---
Related News
---