Rice Growers in Ciego de Ávila Face Largest Sowing Ever
Submitted by: admin

03 / 20 / 2010
---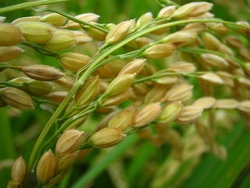 Rice State farmers and those from the cooperative and the private sectors in the Cuban central province of Ciego de Ávila have just started their largest sowing.
Over 200 families that were provided with land in usufruct are also engaged in the rice program. The commitment is to have approximately 7 000 hectares sown.
Such a goal is unprecedented in the history of the Avilanian territory and is due to the need to diminish the imports of rice. The acquisition of the grain abroad is worth over 200 million every year.
Benito Migolla Díaz, the representative of the Ministry of Agriculture in Ciego de Ávila, informed that there are arable lands and labor force enough to attain the biggest rice harvest this year, which cereal is basic in the daily diet of the Cubans.
Excellent soils for rice development in nether areas of the Bolivia municipality are currently plowed by peasants from cooperative belonging to other territories, which initiative might prove to be fruitful by mid year.
Specialists in agriculture have recovered irrigation machines to take advantage of them in the cultivation of the cereal and to guarantee high yields, as stated by Emilio Varela, an official in charge of watering systems.
One aspect that might help to achieve the planned results is the generalization a technique consisting mainly on the transplant of seedlings, which experience was introduced in the municipality of Chambas by Engineer Francisco Goatherd and provides better results.
Source: Invasor
---
Related News
---