Troubadour Wiliam Vivanco and his album: The world is changed
Submitted by: admin

03 / 19 / 2010
---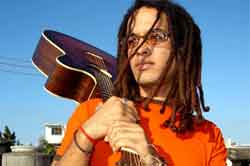 After the release of his third album, troubadour William Vivanco gave the concert El mundo está cambia'o (The world is changed) in the city of Pinar del Rio, his most recent production that attracted the youths who enjoyed the show at Hermanos Saiz University.
"The tour gives the chance to travel all over the provinces and promote the songs of my two previous albums, and I feel a lot of color in this last", Vivanco makes sure.
"This is the penultimate of the tour, but it will never exist a last concert, my main goal is to take my music all over the miraculous island", the singer affirmed.
"The song that entitles the disk was composed by Canadian producer Robert Aaron and me. The album is our restlessness with all of the things happening nowadays, it is rather our livings".
His new production is more acoustic, has more genres than the previous ones. He considers that it resembles more his personality and a stage of maturity is noticed both in his life and all that surrounds him.
"To be part of the new Cuban trova, is a label, so the new generations are part of a newer one and each period has its mark", he reflects. "The trova is just that, it is everywhere, I take a bit of everything, always with respect, of course".
"To play for a university audience is great, we also played at Santa Clara College, the youths are fun, educated, I loved the concert", Vivanco confesses.
With his good aché, the troubador gave us a concert full of energy and love, plus a touch of his seasoning made our hearts and feet moved and undoubtedly expect a next visit.
Source: Guerrillero
---
Related News
---