Music to Mute Film in Electroacoustic Festival in Havana
Submitted by: admin

03 / 17 / 2010
---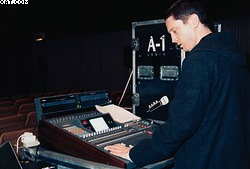 Mexican specialist Mauricio Valdes will speak about his experiences in mute feature films' live musicalization in the first academic day of the 13th International Festival of Electroacoustic Music.
  More than 50 exponents of the electroacoustic music, from 17 Latin American countries, Europe, United States and China, attend the festival, which was opened on Monday with a concert dedicated to the Cuban deceased composer Juan Blanco, pioneer of this musical style in the country.
The artistic program includes a concert, in which there will be played international works like La Cuarta Tentación (The fourth temptation) by Argetinian Roberto Rue, Lament of Langerhans by Alejandro Casales and the Cuban-French duo Meta Duo's performance.
In the second concert, the Spain Federation will perform scores like En realidad no by Eduardo Polonio, L003 by José Andres Prieto and Hacia la esperanza by Joaquin Medina.
Brazilian Pedro Bittencourt will present his paper Mixed Music to Saxophone, Mexican Alejandro Casales will present Synchrony (Y) Decomposition and Spectral Sonorous Art and German DJs Gabriel Ananda y Marcel Janovsky will give a workshop in subsequent theoretical session.
The festival's main venues will be the National Museum of Fine Arts, the Public Library Rubén Martinez Villena and the Basilica of San Francisco de Asis Convent, where there will take place concerts every day.
The 13th International Festival of Electroacoustic Music will last until Sunday 21.
Source:PL
---
Related News
---