Ciego de Avila Fosters Interest in agricultural programs
Submitted by: admin

03 / 16 / 2010
---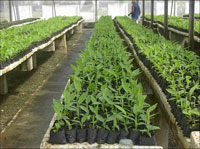 Ciego de Avila encourages vocational orientation of youngsters towards technical careers dealing with  agriculture, to face productive needs nof the country, one of those needs is the contribution with the nation's fruits demands.
Lázaro Padrón Pereira, deputy director of senior high school in the territory, expressed that the sector carries out a personalized work with the twelve grade students to get them interested in specialties such as Forest and Agricultural engineering and veterinary medicine.
"The continuity of the efficient use of those over 100 000 hectares dedicated to sugar cane, cattle raising, miscellaneous crops, fruit-bearing trees and citrus plantations in Ciego de Ávila depend on the disposition of the new generations to make the soil produce", Padrón Pereira said.
Ricardo Llanes, provincial director of teaching, informed that in this school year more agricultural programs will be available, according to the demand of each municipality, in order to create the labor force needed in four years from now.
Luis Enrique Calderón, deputy director of technical and professional education, highlighted the importance of strengthening the exchange of education workers with the students to motivate their interest starting from the workers' experiences.
"The personnel from organizations and relevant entities are the most enabled to show the youths and their parents the upgrading possibilities and the numerous application fields, due to the current scientific and technical development", Calderón said.
In Ciego de Ávila there are two agricultural technical schools with more than 1 000 students, who are now studying agronomy, zoo techniques, veterinary and agricultural mechanization.
Source: Invasor
---
Related News
---